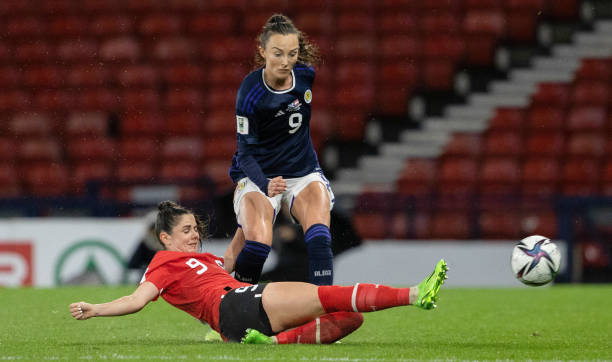 Score: Scotland 1-0 Austria
Hampden Park is a historic ground where historic things happen. Scotland scoring in extra time against Austria to make it to the second round of World Cup playoffs may or may not be one of them. Everything depends on Tuesday's game against Ireland, a side who only lost to Sweden by one goal on aggregate after two games. Games such as these (a first round World Cup playoff) are lost in the abyss of the almost, a common limbo in sports between the known and the unfortunate. Austria is this round's unfortunate. A side that made it to the Euros semi-final on their first try in 2017 has never made it to a World Cup finals. A harsh reality is that many who played on Thursday evening will not make it through the next four-year cycle. However, for both Scotland and Austria, it is certain that their quiet legacies will last generations through those who come after.
Scotland's Successful Strategy
The first half proved to be a struggle for Austria. Scotland challenged Irene Fuhrmann's side in areas where Austria usually reign supreme. Laura Wienroither and Verena Hanshaw were standout performers at this years Euros. In this match, their attacking presence was limited by Scotland's clever positioning. Lisa Evans and Nicola Docherty played as attacking fullbacks. Evans in particular exploited the space behind the opposing back line when Austria attempted wide overloads.
Additionally, Scotland was excellent at switching the field through central players. The diagonal pass through the middle was open for the majority of the first half because of Austria's poor midfield organization. Furthermore, space behind the Austrian fullbacks was also open due to their high positioning. Both Scottish center backs, in addition to Caroline Weir and Erin Cuthbert, were able to find Lana Clelland and Claire Emslie within two passes. As a result, Wienroither and Hanshaw spent the majority of the first half tracking back to prevent crosses into the box.
To add to the level of difficulty, Caroline Weir and Erin Cuthbert played in combination with a flexible front line. Because of Scotland's overlapping fullbacks, Clelland and Emslie could cut inside, leaving space for Weir and Cuthbert to make runs into wide areas. Martha Thomas stayed between the Austrian center backs to ensure a high, central option was always available. When Fiona Brown replaced Clelland in the second half, Evans played in a more advanced role. This meant that Weir occupied more space in both central and wide areas as Brown and Evans rotated.
Weir was excellent the whole game, creating opportunities both from central and wide positions. Her role was similar to the one she plays for Real Madrid. When she is given complete freedom to be creative, her quality could not be more obvious.
First Half Concerns for Austria
The Austrians lined up in their recognizable 4-1-4-1, with attacking-minded fullbacks and a midfield that deserves more plaudits that it receives. Nicole Billa was on her own up top. The two midfield wingers, Barbara Dunst and Julia Hickelsberger, were keen to allow overlapping runs and slice through central areas to distribute.
Austria's wide overloads were non-existent for large parts of the first half due to Scotland's strategic formation. Hanshaw and Wienroither exemplified impressive defensive skills to deny the majority of Scotland's wide attacking movements. Wienroither in particular had a number of sliding challenges that were highly entertaining.
A large reason for Austria's lack of attacking presence in the first half was due to disorganization in the midfield. Sarah Puntigam, Sarah Zadrazil, and Laura Feiersinger have been a chosen midfield three for as long as most can remember. As years have gone by, their chemistry and positional understanding has only gotten better. During the first half, Puntigam and Zadrazil were positioned similarly to a double pivot. Zadrazil was restricted in her forward movement while Feiersinger was asked to occupy more attacking positions. This left Feiersinger isolated in the center of the field. It also left large gaps in midfield when Puntigam or Zadrazil would step into forward areas.
Austria's Quality
Embed from Getty Images
Towards the end of the first half, Zadrazil's positioning became less restricted. From here, the game opened up and turned in Austria's favor. Puntigam became a true pivot, screening the back line and rarely entering attacking positions. The forward movement of Zadrazil allowed the front line to become more effective. Dunst and Hickelsberger were able to play higher up the field and drive into central areas when Feiersinger or Zadrazil rotated out wide.
Most will come away from this match with thoughts of Weir and Cuthbert's continued excellence. What many fail to realize is that Zadrazil is also at this level. Her ability to progress the ball, awareness to block opposition, and defensive work rate are world class. Zadrazil's talents also extend to her leadership on the field. Her renewed energy and work rate reinvigorated her teammates going forward after being granted more positional freedom. Laura Feiersinger was excellent for the majority of the second half. She played off her teammates and created numerous opportunities going forward. Barbara Dunst also came alive in the second half, notably "breaking the ankles" of Nicola Docherty during extra time.
Nicole Billa was isolated for most of the first half. The midfield was unable to find her runs into space and Austria failed to press as a unit. Somehow, Billa still managed to look dangerous through smart pressing and an exceptional eye for goal. Billa became more connected with the rest of her team as the central midfield three sorted out their positioning. Her runs into space became complimented by the movement of those behind her. These types of talents deserve to be seen on the world stage.
Unfortunately, these quality players and tactical changes were not enough to stop the home side. Scotland deservedly head to the next round with the hope of flying to Australia in July.
Conclusion
It is both upsetting and joyful that teams such as Austria are not able to qualify for the World Cup. The women's game has progressed to the point where competition for places is strong, ensuring only the best European sides make it to the finals. Unfortunately, this is not always the case in other parts of the world. The hope is that continued support and interest in the women's game will fuel qualifications just as tough as Scotland versus Austria.
Written by Madeleine Metz
Creator of Only Women's Soccer
On a personal note: Let's go Scotland!