Since the professionalization of Europe's top women's clubs, the Champions League has consistently presented quality, intense, and competitive matches. Chelsea's second leg tie against Lyon takes them to the semi-finals to face a ruthless and dominant Barcelona. This article looks back on how Chelsea did not have to win their second leg to defeat Lyon.
Game Recap
The game started off with a flurry of chances for Lyon. One of these chances fell to Danish striker Signe Bruun, who should have made the scoreline 1-0 Lyon within five minutes. Chelsea's Sam Kerr grabbed the next opportunity of the game, launching the ball straight into goalkeeper Christiane Endler. The momentum stayed with Chelsea until two injuries in quick succession marked a turning point in the match. Melanie Leupolz was the first to leave the pitch after suffering a broken nose. Eve Perisset was subbed off shortly after with bruised ribs.
In the 77th minute, center back Vanessa Gilles slipped the ball inside the near post between Magdalena Eriksson and Ann-Katrin Berger. This pulled Lyon to a 1-0 lead, tying the score on aggregate. The game would go to 120 minutes. Sara Däbritz scored Lyon's second of the night in the 110th minute after three Chelsea players failed to clear. In the 122nd minute, Vicki Becho tripped Lauren James in the Lyon box. After a lengthy VAR-led decision, Chelsea was awarded a penalty. It would take until the 128th minute for the penalty to be converted by Maren Mjelde.
The game was taken to penalties. Wendie Renard and Lauren James missed, leveling the score at 3-3. Jess Carter smashed her penalty home while Lindsey Horan faced an insurmountable wall in Berger. Chelsea won 4-3 on penalties.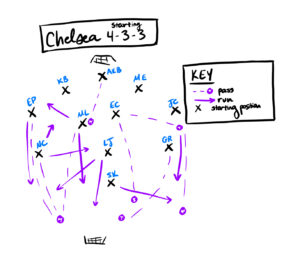 Off the Ball
Wide Areas
Jess Carter's individual defensive qualities made her an ideal candidate to play against Delphine Cascarino. Wide areas were heavily targeted in transition by Lyon throughout the match. This was especially prevalent in the opening 15 minutes with Cascarino finding space behind Carter. Cascarino is both a main outlet to score and the main provider to Signe Bruun. Luckily for Chelsea, Carter found her balance in the first half between marking Cascarino and pushing forward. Without a defensive minded partner in Guro Reiten down the left flank, Carter was certainly given the harder task out of the two fullbacks.
On the right wing, having the rotation of Eve Perisset, Niamh Charles, and Lauren James was extremely useful in defense. James, although listed as an attacking midfielder, played as a second striker. This created a front two in possession and a front four off the ball. Once Chelsea lost possession, James and Kerr settled in a mid block press. Chelsea pressed in a system that was flexible to the movements of Lyon. If Kerr or James could win the ball, they pressed higher. Otherwise, Kerr and James maintained their shape to force Lyon into Chelsea's press. Both Charles and Reiten waited in the center of the field before marking Lyon's outside backs. This makes sure there are no passing lanes towards the center of the field while simultaneously defending Lyon's build-up through their outside backs. Lyon rely heavily on overlapping fullbacks to get crosses into the box. Further back, Melanie Leupolz marks Egurrola to prevent distribution.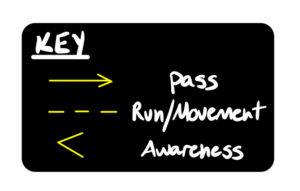 When Leupolz went off, Chelsea's seamless rotation was lost. Lyon was able to find gaps in wider areas due to the lack of coverage by Chelsea. This is dangerous due to the number of Lyon players that bombard the box on crosses through late midfield runs. Ada Hegerberg, substituted at the half, is dangerous on crosses.
Central Midfield
At the heart of Chelsea's defensive play against Lyon was the double pivot of Melanie Leupolz and Erin Cuthbert. Cuthbert played a deeper role, cleaning up loose balls and covering teammates in wide areas. Leupolz was tasked with preventing any Lyon build-up through the center of the field and occasionally covering wide areas. Leupolz was a primary component in Chelsea's press. This setup provided Chelsea with the defensive security to execute their transitional play in addition to marking the Lyon fullbacks.
This defensive cleanup proved to be more intense than was perhaps intended. However, both Leupolz and Cuthbert are intense players. Both are hard-working, running everywhere and anywhere to make a tackle. Neither are afraid of a challenge, even if it results in a broken nose. This is necessary against a team as physically adept and clever as Lyon. With a lack of regulations from the referee, this intensity persisted for the entirety of the 120 minutes. Chelsea was forced to substitute out both Melanie Leupolz and Eve Perisset due to injury. 
Throughout the first half, Damaris Egurrola was easily marked out of the match by Leupolz and Cuthbert. After Sara Däbritz replaced Egurrola, a double pivot of Däbritz and Lindsey Horan allowed for movement within central areas to more easily bypass Chelsea's central press. Both midfielders dropped into half spaces to receive balls from their center backs or one another. If Lyon could not build-up through their fullbacks, they had to dominate in midfield.
Leupolz's injury created the opportunity for this domination. A more collected Sophie Ingle and a tired Erin Cuthbert allowed Lyon's midfield to ignite. In addition to the movement of Horan, Däbritz, and Daniëlle van de Donk in midfield, interchanging rotation with wide players like Amel Majri and Vicki Becho greatly complicated matters for Chelsea. Lyon midfielders and forwards alike dropped into central areas to combine with their teammates. This included Ada Hegerberg, who was introduced at half time.
On the Ball
Wide Build-Up Play
Chelsea's main goal was to play a direct ball through to Lauren James or Sam Kerr. James and Kerr were most commonly fed these passes from their fullbacks and defensive midfielders into wider areas. As James drifted wide, Niamh Charles would pick up this space in the center of the field. Charles would then drop back into a more defensive position as Perisset moved forward, covering both Perisset and Leupolz at the same time. As space was opened in central attacking areas, Leupolz moved forward, alleviating herself of defensive responsibility.
Through these rotations, Chelsea played to the strengths of their personnel. Leupolz showcased her attacking qualities. James was given freedom to create and combine with Kerr. Perisset provided direct distribution and attacking pace, while being covered defensively by Charles and Cuthbert.
Central Build-Up Play
As stated previously, Chelsea's objective in attack was to get the ball to Lauren James or Sam Kerr. This meant that the distribution was largely limited to Leupolz and Cuthbert hitting the ball up field, the fullbacks doing the same, or Guro Reiten curling the ball behind Lyon's back line.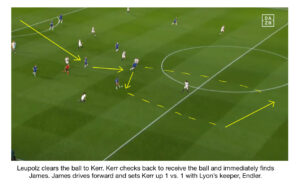 Goalkeeper Ann-Katrin Berger and both Chelsea center backs also used these outlets to keep the ball up-field and exploit Lyon's high line. Chelsea did not need link up play in midfield to succeed in attack. James rarely dropped in to collect the ball. Leupolz and Cuthbert needed to focus on stifling Lyon's attack. Additionally, Chelsea was wary of losing the ball within their own half. This would have been likely had they attempted to build-up through midfield using possession with Lyon's high press. Once Chelsea broke Lyon's first lines of pressure, Lyon left half spaces open in midfield and behind their fullbacks. Lyon needed to score, and they pushed their midfielders and outside backs into attacking positions to do so.
An added benefit to Chelsea's transitional play was permitting James to run with the ball at defenders without worrying about dropping in to combine with teammates. James and Kerr were both needed up top with their wider players having added defensive responsibility. This strategy worked in Chelsea's favor, with both James and Kerr finding significant chances throughout the first 60 minutes through balls over the top or linking up with each other. Defensively, it allowed Chelsea to have security. In terms of attack, it still played to individual player strengths.
In Transition
When Chelsea won the ball in high areas, their first goal was to find either Kerr or James behind Lyon's back line. If this option was not open, Charles and Reiten spread wide to form a front four with Kerr and James central. Leupolz occupied the space at the top of the box, ready to make a late run from midfield. Cuthbert was the main distributor in this scenario. Perisset pulled central to either switch the ball across the field to find an opening or provide crosses from deep areas.
In transition from attack to defense, Cuthbert was also key. Lyon tend to play wide in transition, using their fullbacks to push the ball as far up the field as possible. Cuthbert was tasked with slowing down this movement. Following this action, Chelsea's near sided fullback or forward winger dropped to double team Lyon's wide player. Which player drops depended on who pushed up in attack.
Chaos
Little can predict a game which goes to 120 minutes, followed by penalties. Intensity never slows and exhaustion compounds. Not much else can be stated by way of a structured game plan. Managers have faith in their players to pull through. Unwavering and authentic personalities come up in big moments. All the credit in the world to Maren Mjelde and Ann-Katrin Berger for their penalty heroics.
Conclusion
Although Chelsea lost the second leg 2-1, they never needed to win. For the first 60 minutes of the match they stuck to a game plan. Chelsea built on their winning narrative from a week prior. It can be questioned whether the penalty call was valid, but there is no question as to who was the better team across the two legs.