OWS Analysis for Equality #1
Final Score: Stabæk 4-0 Røa
Match Date: November 24, 2012
Only Women's Soccer: Analysis for Equality is a new series to analyze a game from a tactical perspective and on how it is relevant to the modern soccer community. In this edition of OWS Analysis for Equality, Stabæk's 2012 title winning side showcases the importance of developing domestic talents and supporting player rights.
Game Recap
FIRST HALF: After a quick give and go with current Barcelona star Caroline Graham Hansen, Ada Hegerberg was off to the races. For her first goal of three, Hegerberg chopped the ball onto her left foot to place the ball into the net. For her second goal, a deflected dribble from Hansen led to a cross from left-back Ingrid Bakke. Hegerberg nodded the ball into the back of the goal. Right before the half-end, Ada Hegerberg wrote her name into Norwegian Cup history. After Andrine Hegerberg's cheeky assist to knock the ball down, Ada Hegerberg rifled the ball into the goal-mouth. 
SECOND HALF: The second half proved less eventful than the first. Caroline Graham Hansen put the score at 4-0 in the 67th minute after slicing through the Røa defense. Following her goal, the young technician's performance was cut short due to a nasty tackle from a Røa defender. As the game rolled on, anticipation brought a feisty flair to the match. As soon as the final whistle was blown, Stabæk and their band of supporters filled the stadium with roars of exuberance and joy.
Analysis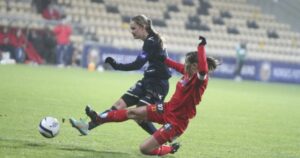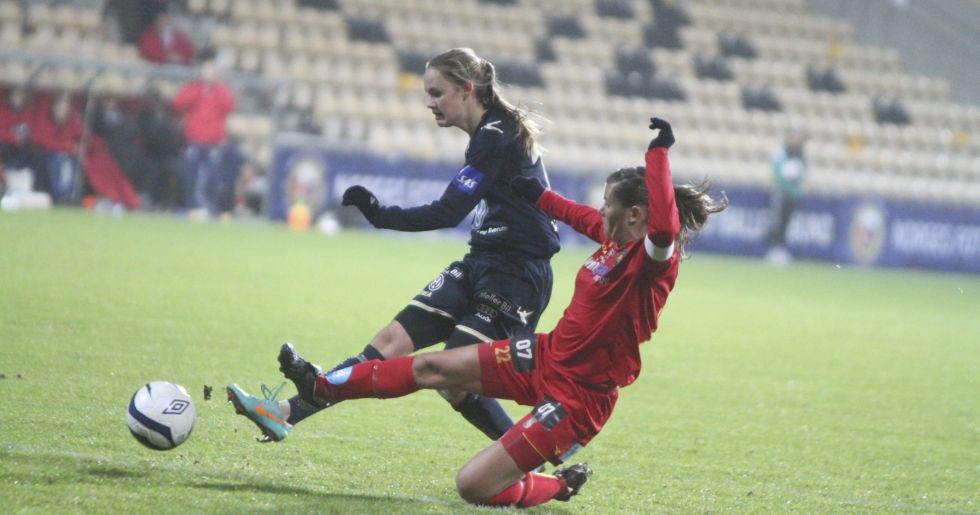 The Stabæk vs. Røa 2012 Norwegian Cup Final was the height of Stabæk's career in the top flight of domestic Norwegian club soccer. Starlets Caroline Graham Hansen and Ada Hegerberg were playing their final season in the Toppserien before overseas opportunities took precedence. However, it wasn't just the two stars of a new generation that made Stabæk's 2012 cup winning side such a standout.
Holding midfielder Katrine Pedersen joined Stabæk in 2009, and with the most appearances in Danish international soccer history, she was renowned for her composed and intelligence on the ball. Pedersen broke down Røa by playing one and two touch passes through the center of midfield. Fellow veteran Ingvild Stensland and teenage talent Andrine Hegerberg followed suit. The older of the Hegerberg sisters, Andrine Hegerberg possessed a knack for balancing creativity and exceptional work rate. Andrine Hegerberg's distribution to wide areas and clever passing through central channels set up the flexible Stabæk attack.
Unsurprisingly, Ada Hegerberg and Caroline Graham Hansen were fundamental parts of the Stabæk forward line. Their technical skill and player on player battles are impressive to any analyst, especially at such a young age. The one versus one skills of Hansen and the clinicality of Hegerberg are crucial pieces to their individual styles and should not be overlooked in any facet. Even after taking independent skills into account, each possessed a more impressive characteristic: The ability to comprehend the movement of fellow teammates (and each other) on the field. 
As Hansen would drift into the middle of the field, Hegerberg would pull out wide, making runs to pull defenders out of position or put herself in on goal. Defender Ingrid Bakke would give Hansen additional room to push into central areas, playing as a false winger to allow for a flexible attack. Regardless, Hansen or Andrine Hegerberg would drift into the central striker role if Hegerberg was able to find space behind Røa's outside-backs. On the right side of the field, Leni Larsen provided the option of a mainstream winger. Larsen's speed allowed Stabæk to play the ball over the top. Hansen's superb technical ability usually called for a ball directly to her feet.
Stabæk's speedy and flexible attack allowed for their forwards to breeze by Røa's back-line with ease. Overall, Stabæk perfectly executed the balance between cooperative play and individual talent. Caroline Graham Hansen and Ada Hegerberg were the stars of the show with Ingrid Bakke, Katrine Pedersen, and Andrine Hegerberg each playing vital roles to hold the team together.
Why is This Game Relevant?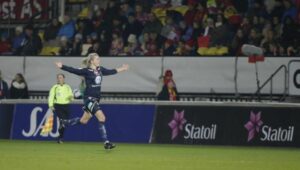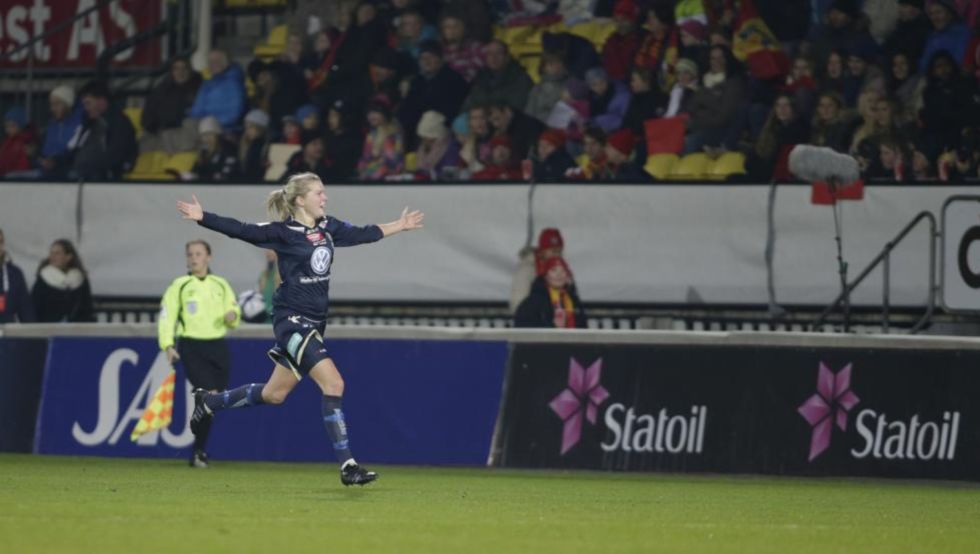 "When you get world-class investment, you get world-class results… Football Federations, are you listening?"
For Ada Hegerberg, respect is all she ever wants from people who watch her play. Hegerberg wants to be treated on par with her male colleagues who dominate the sport, just as she has done for so many years at Olympique Lyonnais. As of now, Lyon is one of the only clubs in the world where men and women are equally valued. Money has little to do with it. Again, for Ada Hegerberg, it's respect. Hegerberg has not found this kind of respect throughout her time playing for Norway's national team. She tells the Guardian that "Norway has a great history of women's football but it's harder now. We've stopped talking about development and other countries have overtaken us." 
The world of women's soccer needs world-class partnerships like the one of Caroline Graham Hansen and Ada Hegerberg. Because of the Norwegian Football Federation's unequal treatment of men and women, Ada Hegerberg left the Norwegian national team in 2017. Although comments have been made against the Lyon star surrounding her decision to leave the national team, Ada Hegerberg has every right to stand up for what she believes in and to stick to her principal values. It is the job of the women's soccer community as a whole to foster developing partnerships such as Caroline Graham Hansen and Ada Hegerberg and to support player rights.
Written by Maddie Metz
Creator of Only Women's Soccer
Sources:
Images: