The 2020-2021 UEFA Women's Champions League (UWCL) final is the biggest match in women's club soccer history. Recent league victors Barcelona and Chelsea will battle it out for the title of European champions. The clubs represent two soccer capitals of the globe, filled with a global empire of fans and deeply rooted passion. Chelsea's London provides immense history for the British soccer world. Chelsea's men won the Champions League in 2012 and North London's Arsenal are the only other English women's side to ever reach the finals of the European stage. Their competitors, Barcelona, are nearly impossible to beat for technique and tactics. After winning the Champions League five times since 1992, Barcelona's men are (reluctantly) handing the baton over to the women's side. It will be Barcelona Femení's second time at the UWCL final following a 4-1 defeat two years ago to reigning champions Olympique Lyonnais. 
And that brings up the question: Which team is the one two back? Lucky for you, Only Women's Soccer has it covered. This preview will shed light on all of the possible match deciders for the final on Sunday. Read until the end to find out our personal prediction of the final score!
DISCLAIMER: We at Only Women's Soccer are (to a very considerable degree) Barcelona supporters. #ForçaBarça will be heavily featured across our social media during the UWCL festivities!
Predicted Lineups
Barcelona: 4-3-3
Paños
Marta        Patri        María León        Leila
Hamraoui        Alexia        Aitana
Graham        J. Hermoso        Martens
Chelsea: 4-3-3
Berger
Carter        Bright        Eriksson        Charles
Ingle        Ji        Leupolz
Kerr        Harder        Kirby
Defense
Central Defense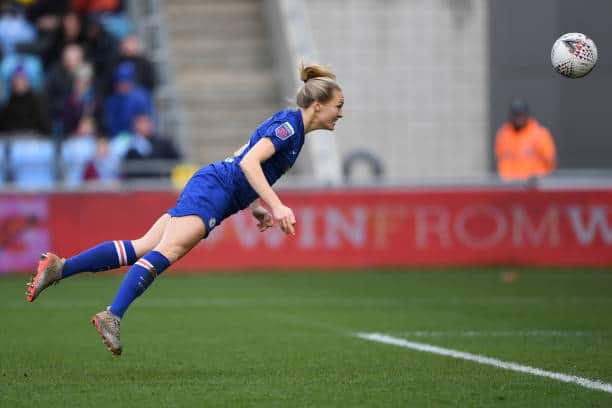 Due to a combination of lackluster performances and long-term injuries, many would consider Chelsea's defensive situation dire. Unfortunately for Barcelona fans, this group does not include Chelsea manager Emma Hayes. Magdalena Eriksson's performance in their second leg against German league leaders Bayern Munich was fabulous. Directive leadership and goal-line clearances allowed the makeshift back-four the confidence to perform at their best. Eriksson and defensive partner Millie Bright are renowned for their successes in the English league. Unfortunately for Barcelona, they find themselves in a similar situation to a Chelsea side without Eriksson.
With Andrea Pereira suspended for the final, Patri Guijarro is the perfect candidate to slot in beside Mapi León at center back. The 22 year old has been a part of the Barcelona squad since her teenage years and her composure and maturity on the ball classifies her as a seasoned professional. The downside to this decision has much less to do with Guijarro's contribution to her defensive line and far more to do with the flexibility her midfield will lose.
Fullback
The fullback position is one of contention for both finalists. For the English side, Niamh Charles and Jess Carter are perhaps the least likely duo Emma Hayes would have started at the beginning of the season. After fighting against relegation with Liverpool last year, 21-year-old forward Niamh Charles was scooped up by Chelsea during the summer transfer window. To the surprise of many, Charles established herself as a consistent performer. Further surprise ensued when Charles was placed at fullback in a UWCL semi-final, having only just picked up the position a few months prior. As for Jess Carter, she has not been in Chelsea's starting rotation for a number of seasons.
Although Chelsea's fullbacks may look weak on paper, both players exhibited strong quality against Bayern Munich this past month. Charles is the more attacking minded of the two. Her tenacity and combination play in both halves of the field bode her well. While Charles pushes further forward, Carter either rotates central to form a three-back with Eriksson and Bright, or Sophie Ingle drops in to fill defensive gaps. This strategy will be effective in breaking Barcelona's press through positional flexibility and awareness. A word of caution for both fullbacks is exercised in the form of the Barcelona players themselves. Caroline Graham Hansen can be utterly embarrassing to go up against if given the chance.
On Barcelona's side, fans have questioned the security of their starting back line for years. Mapi León is often seen covering for left-back Leila Ouahabi. This will leave large gaps in the center of the field for Chelsea to exploit. Other options to play out wide include Barcelona legend Melanie Serrano and previous UWCL winner Ana-Maria Crnogorčević. Serrano provides both experience and technical ability, and Barcelona manager Lluis Cortes has been encouraged time and time again to make use of his quality on the bench. On the other side Marta Torrejón is a mainstay of Barcelona's starting eleven. Torrejón, Ouahabi, and Serrano are excellent going forward and their overlapping runs make them an absolute pain to defend against.
Attack
Midfield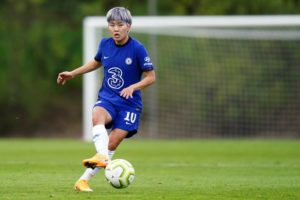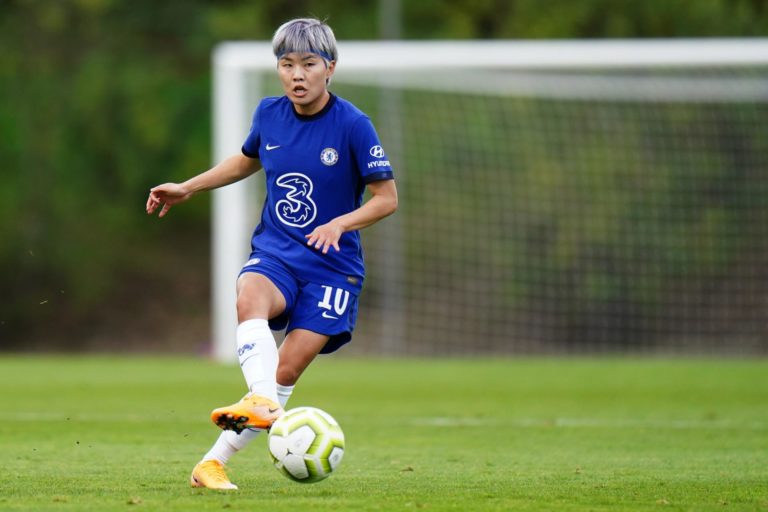 For both Chelsea and Barcelona, a flexible midfield is key to successes further up the pitch. In Chelsea's second leg semi-final against Bayern Munich, Chelsea stacked their midfield in a diamond-like shape. Although their formation was labeled as a 4-3-3, Pernille Harder played in the false nine role, dropping into deeper areas to distribute and assist Sam Kerr and Fran Kirby. Contrary to expectation, playing Harder as a forward instead of an attacking midfielder allows her total freedom to utilize her playmaking ability. Behind Harder sit the technical talents of Melanie Leupolz and Ji So-yun. Both Leupolz and Ji are capable of accurate long range shooting, brilliant distribution, and tenacity in the center of the pitch. But for the London side, the axle of the midfield rests on Sophie Ingle. The Welsh midfielder grants Leupolz and Ji the freedom of going forward while providing extra security to an attacking minded defense.
Barcelona relies on a mixture of accountability and polyvalence to break down opponents, and the midfield La Masia trio have it all figured out. With Patri Guijarro, Alexia Putellas, and Aitana Bonmatí all coming out of Barcelona's youth system, Lluis Cortes is spoiled for quality. Unluckily, it is probable that Guijarro, Barcelona's central pivot, will be taken away from her midfield compatriots to strengthen Barcelona's back line. This leaves Kheira Hamraoui to play in defensive midfield. Hamraoui is an excellent player, but lacks the chemistry necessary for Barcelona to play in their typical free-flowing and flexible manner. 
Guijarro, Putellas, and Bonmatí rotate to fill defensive gaps, allowing Guijarro the ability to push forward. Putellas and Bonmatí have improved immensely at defensive positioning in the past seasons to accommodate for this. The structured accountability and unstructured runs, distribution, and short passing are the reason for Barcelona's recent successes. If Cortes chooses to play Patri alongside Mapi León, he has given up the biggest threat his side poses to Chelsea.
Forward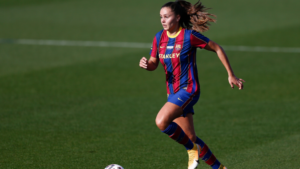 Attacking tactics in the final third are a byproduct of what happens in the center of the field. For the most part, both Pernille Harder and Jennifer Hermoso play a semi-midfield role throughout the match, dropping back to receive the ball before distributing into their attacking third. The difference between Barcelona and Chelsea largely revolves around how the teams use wide areas. Both of Chelsea's outside forwards predominantly play in more central areas. Sam Kerr is the epitome of this sentiment, recently being named Barclays FA Women's Super League topscorer. The chances Kerr created were largely due to a strong link-up play with Fran Kirby, who is also renowned for her playmaking ability in the center of the field. Together, when Harder drops into a deeper role, Kerr and Kirby have arguably the best combination play in the world. Overlapping runs and utilizing Harder's flexibility will be a critical part in breaking down the Spanish champions. 
From a Barcelona perspective, their wingers are some of the best to have ever played the sport. As Jenni Hermoso drops back into the midfield, Alexia Putellas and Aitana Bonmatí can rotate to occupy space up front. This leaves the flanks wide open for Caroline Graham Hansen, Lieke Martens, or Mariona Caldentey to drive at Chelsea's fullbacks. Regardless of whether Chelsea play a narrow defense or stretch wide, Barcelona have adept strategies to combat both options. If Chelsea pinch inwards, Graham Hansen is the best 1 vs. 1 attacker the women's game has ever seen. She, along with Martens or Caldentey, will make mincemeat out of tribute defenders. If Chelsea allow their outside backs to occupy the channels, Putellas and Hermoso will put their outstanding vision to good use. Each will play intelligent balls behind the Chelsea back line.
Predictions
With each team's absolute willpower and passion to become champions of Europe, it would be a surprise to see this match contain less than two goals. Only Women's Soccer predicts that Barcelona will take gold, winning by a narrow 2-1 goal margin.
Força Barça!
Written by Maddie Metz
Creator of Only Women's Soccer
Sources:
Images: