Part #3 – Jana Fernández, Lucía Rodríguez, and María Méndez
The Primera División Femenina, the top division for women's soccer in Spain, boasts some of the most amazing talents in the sport, with Spain's national team already pushing the United States to their limits. The league is still in the early stages becoming one of the world's most highly regarded divisions, with a prospering set of international youth development squads and wide-ranging interest. The Primera División is known for being technical, competitive, and passionate towards improvement and success. Even with recent improvements, the Primera División has been hindered by the lack of support given from the Royal Spanish Football Federation (RFEF), the federation that all registered top division soccer teams in Spain are held under. Nevertheless, the league is thriving. The Primera Divisón produces and attracts amazing players while continually fostering talent, and allowing people all across the world to fall in love with the sporting culture.
This edition of the Underrated Wizards of Spanish Women's Soccer analyzes three of the best defenders in the women's game. For the Primera División, this means investigating insane U-23 talents who are ready to take the world by storm. Jana Fernández has already won the Champions League, the Copa de la Reina, and the league title in her first professional season with Barcelona. Real Sociedad's Lucía Rodríguez is listed among the best fullbacks in the league. María Méndez made the leap from Deportivo de La Coruña to Levante UD last season, and has established herself as a consistent starter for the Champions League-bound side. 
Jana Fernández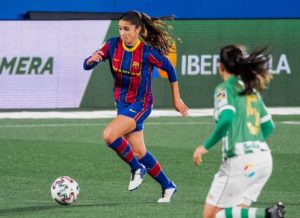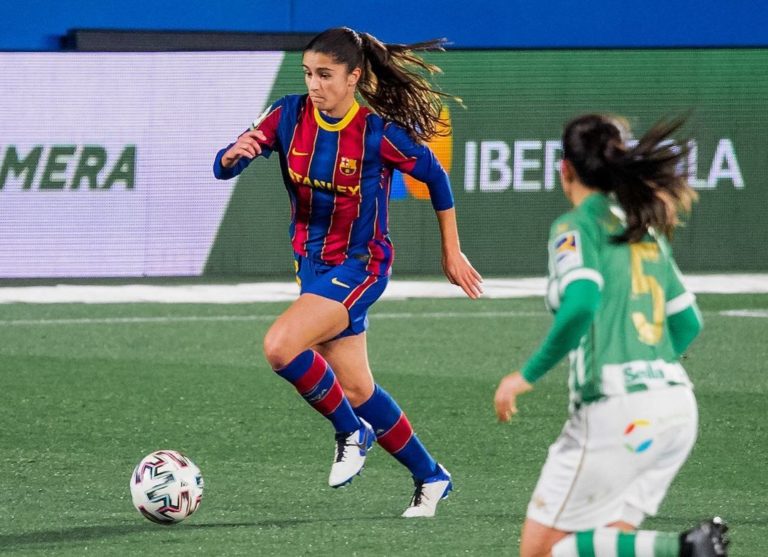 Jana Fernández is one of soccer's most accomplished fullbacks and at only 19, the world has yet to see when she can offer. Inside Spain, Fernández has won almost every domestic competition the Primera División has in store. After kicking off her career with Barcelona's first team in 2018, Fernández has won the Copa Catalunya, the Copa de La Reina, the league, and the prestigious UEFA Women's Champions League. Fernández has also been very successful internationally. She won the U-17 UEFA European Championship in 2018 and that same year, Spain's first ever U-17 Women's World Cup.
But the struggle to fight one's way into Barcelona's first team is not for the faint of heart. Jana Fernández joined Barcelona's La Masia academy in 2014. Within three years she had sealed herself as an important member of Barcelona B. In 2020, Fernández signed her first professional contract with the azulgranas. Like most academy-raised prospects, Fernández struggled to find minutes for the larger part of this season's campaigns. A loan spell to another club looks to be a likely next move for Fernández in the coming seasons to develop as a mainstay for a top division Spanish team. However, this does not limit any of the talent Fernández has worked to exemplify. Players such as Laia Aleixandri, Ona Batlle, and Clàudia Pina left Barcelona to find new opportunities and carve a path to the Spanish national team. 
Jana Fernández excels at the technical aspect of the game. On the defensive side, Fernández is comfortable switching position within the flow of the game and has all bases covered when a teammate is beaten further up the field. If necessary, Fernández possesses a superb slide tackle. If you have watched Barcelona or Spain in recent years, this talent comes as no surprise. Barcelona teammate Mapi León is by far the best slide-tackler in the women's game, repeatedly getting her team out of trouble against top sides. 
In possession, Fernández poses a significant attacking threat. She exudes maturity, playing simple and composed out of the back when she has space and picking out a ball over top when her side is pressurized. In addition, Fernández picks and chooses her moments to drive forward. Her dribbling can be used to break a line of pressure or to play into midfield. In addition, Fernández has mastered the art of rapid changes of direction and sudden bursts of pace to give her side the extra edge on attack. With positional flexibility, technique, and individual style, Jana Fernández is certain to appear on Barcelona's team sheet for many years to come.
Lucía Rodríguez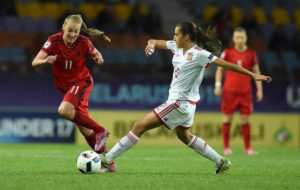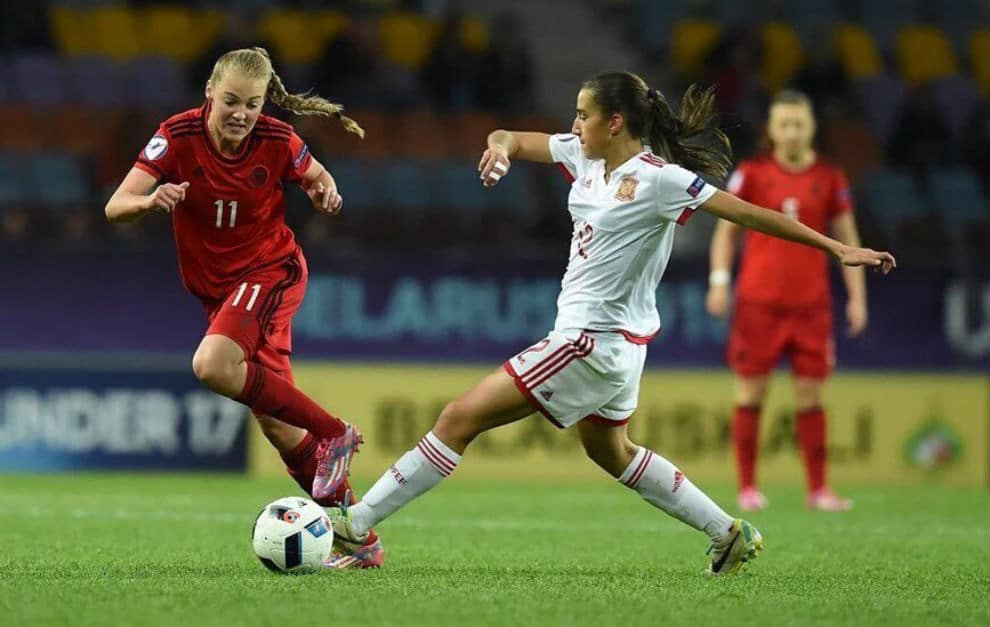 Lucía Rodríguez is a madrileña born and raised, continually proving her passion through intuitive play and hard-won tackles. Rodríguez started her career with Madrid CFF in 2014 before making the leap to CD Tacón three years later. After joining Madrid CFF again in the 2018-2019 season, Rodríguez left her home city for the Copa de La Reina champions, Real Sociedad. After a second year without a trophy or Champions League qualification, Rodríguez looks to be returning home. Real Madrid has expressed immense interest in the 22 year old and for good reason. The U-19 UEFA European Championship winner and two time U-20 Women's World Cup runner-up is renowned to be one of the best outside backs in the league along with the likes of established internationals Marta Torrejón and Kenti Robles.
In a world where women's soccer is at the forefront of equality in sports, each generation is more physically adept than the last. In Spain, technical play is the expectation, with the majority of teams playing their own versions of possession based soccer. What makes teams like Barcelona (and soon to be the Spanish national team) so lethal is their ability to compete physically with the best in the world while still maintaining their unparalleled technique and vision. Part of what makes Lucía Rodríguez stand out amongst her compatriots is a combination of her strength and her on the ball ability.
Against stronger opposition, Rodríguez is conservative with her movement. She rarely puts a foot wrong when stepping to an attacking player. This allows a teammate to drop back and cover dangerous areas and ensures that she cannot be beat to the end line. Once Rodríguez regains possession, she will either work to keep the ball or bypass her midfield line to clear. Not keeping possession at all costs goes against the principle goal of most Spanish sides. In the case of Rodríguez, her decision-making returns to the fundamental objectives of a defender, getting the ball away from the net and not conceding. Rodríguez offers a multidimensional back line and a refreshing look on a soccer world that is moving towards more possession based play. 
If Rodríguez is beaten by a pass or talented forward, then the battle becomes about physicality. Rodríguez is both strong and speedy. At the very least she is able to prevent a cross by pushing the attacker out of control or out running the attacker to the ball. Furthermore, these skills are essential for a fullback looking to make their mark in attack. Rodríguez is a proficient dribbler, weaving in and out of defenders to drive down the field. If she loses the ball, Rodríguez performs a crunching tackle to ensure possession and control over the play. After already making a name for herself in Spain's top division, viewers can be certain to watch the refreshing style of Lucía Rodríguez on an international stage in the coming seasons.
María Méndez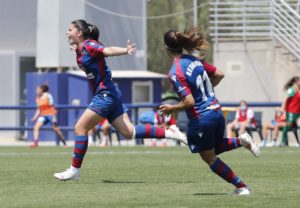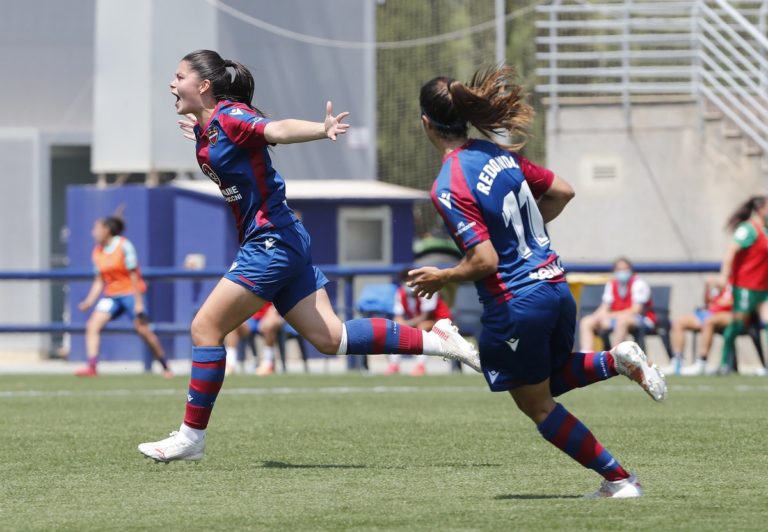 At the age of 20, María Méndez plays with more maturity, and perhaps more experience, than most veterans. After winning the U-17 UEFA European Championship and U-17 World Cup in 2018, Méndez signed for Deportivo de La Coruña, her first contract with a top-flight side. A year later, Méndez headed to Levante UD, a team that had lost the majority of its starting lineup over the summer transfer window. 19 year old Méndez slotted in perfectly, earning a starting spot at center-back alongside Argentinian defender, Aldana Cometti. 
With Levante, Méndez has claimed a silver medal in both the Supercopa and the Copa de La Reina during the 2020-2021 season. Levante have also qualified for their first Champions League in over a decade. Even though another mass-exodus looks likely for the Valencian superpowers, manager María Pry seems to continually pull out impressive results no matter the circumstance.
Compared to the other two defenders discussed in this article, María Méndez is by far the least attack-minded. Of course this does not mean that she is incompetent going forward, quite the opposite actually, but it does mean that she is suited for a typical center-back role. At Levante, Méndez and Aldana Cometti balance each other out. Cometti is sporadic, attacking when there is space and going all in for tackles that can present as unnecessary. Méndez is strict towards her positioning, especially when going against high-ranked teams. Her mental maturity is what makes the Oviedo-born defender ready for the highest level of play at such a young age. Because Méndez is not as fast as some of the attackers she plays against, she gives them a sufficient amount of space. If she makes a mistake, she still has enough time to recover without having to put in a last-minute tackle.
If Méndez is not faced up against attacking opposition, she is covering for her teammates inside the box. It is clear that she is the glue that holds Levante's back line together. If Cometti steps out of position to cover for a fullback, Méndez is there to clear or keep possession and play into her midfield. If a cross is put in from a wide area, Méndez marks the opposition to perfection. A notable example comes in the semi-final of the 2020-2021 Copa de La Reina. Levante were under extreme pressure from a hungry Atlético Madrid side. Ajara Nchout ripped a shot from inside the box and Méndez had positioned herself on the goal line. She makes a goal line clearance to stop the ball from hitting the net. Levante ended up scoring in added time to send them to the Copa de La Reina final where they would end up losing 4-2 to Barcelona. 
Conclusion
As the world starts to open up again and tournaments return, look out for Jana Fernández, Lucía Rodríguez, and María Méndez on the rosters. Watch for their individual talent and what they bring to a competitive Champions League team. Each player has their own distinct style, and all three of these women are fierce competitors at the highest level.
Written by Maddie Metz
Creator of Only Women's Soccer
Sources:
Images: