The legendary final of the 2019 Women's World Cup was held in Lyon, France over two years ago. The streets were desolate in my home city of Washington DC. It felt like the world was holding its breath in anticipation for the game that would ensue. I had watched the United States women's soccer team (USWNT) win the World Cup 4 years prior with limited knowledge of the tournament's significance. Well, I understand now. The women that represent my country are inspiring a generation, and not just through soccer. Because of the USWNT, I firmly believe that women will be treated and paid the same as men in professional sports within the coming seasons.
However, I also know that other countries see the United States as the benchmark for fair treatment of women in international soccer. Although this benchmark is set far too low, it's the truth. The Women's World Cup in 2019 was a catalyst for dismantling this viewpoint in countries where increased coverage and funding became provided. Teams such as Norway, England, and Brazil would receive equal pay before the United States. The Netherlands and Spain have become fierce competitors against the traditional women's soccer giants. All teams receiving increased support from their federations have raised the bar for technique and physicality.
Anyone who thinks the USWNT are automatic winners of all major tournaments clearly hasn't been paying attention.
The United States versus the Netherlands in this Olympic Games will be far more tightly contested than that legendary final two years ago. Although the United States have not shown the extent of their capabilities during this tournament, the Dutch are in-form and firing. Below is a preview of the Netherlands' under Sarina Wiegman. Will it be a winning side? That's for us to find out!
Predicted Netherlands Lineup: 4-3-3
Van Veenendaal
Wilms        Van der Gragt        Nouwen       D. Janssen
Groenen        Roord           Van de Donk
Van de Sanden      Miedema        Martens
Defense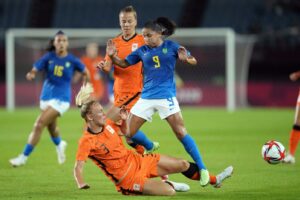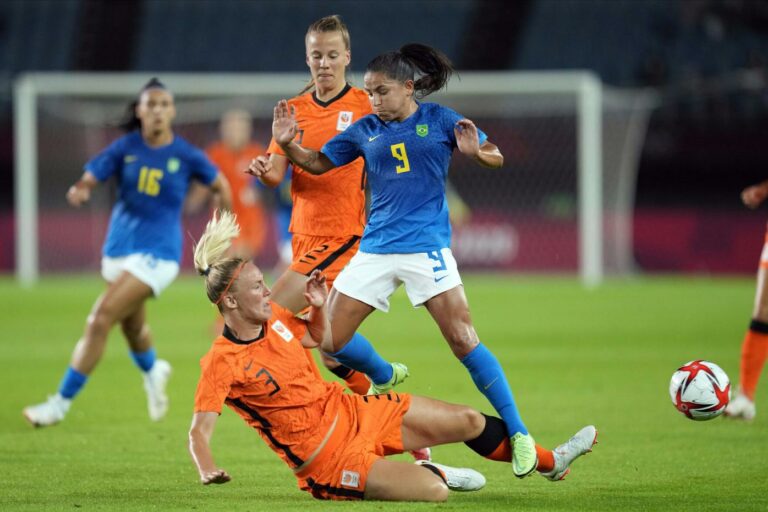 The Dutch conceded eight goals throughout the group-stage of this Olympic finals. Although the goal tally lies heavily in favor of their attacking prowess, these defensive weaknesses will be something the United States will look to exploit. 
Outside Defense
The Dutch play with the same back four as the United States, but they do not play the same style of attacking soccer. 20 year old Lynn Wilms breaks this mold, being the preferred choice at right-back over the defensive-minded Merel van Dongen. Wilms embeds the modern mentality of an attacking-minded fullback into the Dutch setup. Her style gives Shanice van de Sanden and Lineth Beerensteyn room to run at the opposition without constantly tracking back.
On the other side of the pitch, Dominique Janssen has been a mainstay of the Netherlands' squad for a number of years. Her positioning and defensive qualities have grown immensely from her time at Wolfsburg in the Frauen Bundesliga. Janssen is less attacking-minded than Wilms, but her consistency and partnership with Lieke Martens make her as a definite starter. However, Janssen struggles to cope with speedy wingers and attacking overloads. When Lieke Martens manages to cover for Janssen, the back line's stability increases.
Central Defense
Sarina Wiegman has struggled to come up with a center-back pairing that does not break against counter-attacking opposition. Aniek Nouwen, Stefanie van der Gragt, and Merel van Dongen have all played in the center-back slots throughout this Olympics. All are capable of playing center-back without conceding multiple goals per game. So what gives? I believe the answer is due to the absence of Sherida Spitse. 
Spitse is the obvious choice in defensive midfield. She sits back behind the attacking line and allows Jackie Groenen and Daniëlle van de Donk to push forward. In lieu of Spitse's absence through injury, Jackie Groenen has played a more defensive role. Groenen's positioning remains too high. This forces the central defenders, most-frequently Aniek Nouwen, to distribute the ball over the top and switch the field from her own back third. Nevertheless, Nouwen does not push up to fill the gaps between the defensive and midfield lines. This leaves holes for other teams to exploit on counter-attacks. In addition, this style of play puts an enormous amount of pressure on the center-backs. As a result, unforced errors plague the Dutch back line.
Attack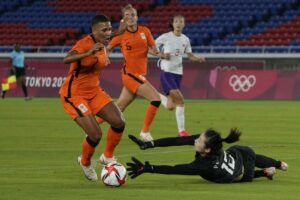 Midfield
In terms of attack, the Dutch midfield is one of the best in the world. With Sherida Spitse out through injury, Jill Roord slots into the third midfield position. Roord has previously played as an outside forward, though I, and many other women's soccer fans, feel she is much more useful as a midfielder. Roord is a strong and technical attacker with eyes for breaking down opposition. Furthermore, her defensive qualities and strong tackles give Groenen the freedom to drift up the pitch. These qualities allow Wiegman to use Roord as a box to box midfielder. She can interchange positions with almost every other central player on the pitch. 
Despite Jackie Groenen's unfamiliarity with her defensive midfield role, she is crucial to building Dutch attack. Groenen, Roord, and Daniëlle van de Donk combine to form some of the most lethal passing combinations in the women's game. Their technique, feisty nature, and vision are unparalleled at this Olympic Games. Groenen in particular is key to breaking pressure. This provides the Dutch defense with options. The Netherlands can choose to play over the opposition to their forward line, or they can pass the ball into midfield to build their attack.
Forwards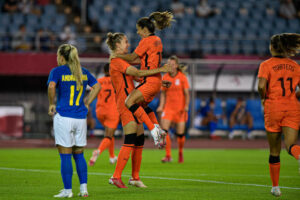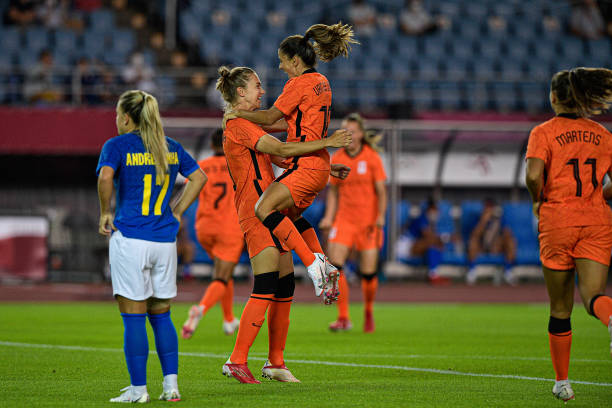 Vivianne Miedema is the best striker in the world right now. There, I said it. Now that that's out of the way, we can focus on the tactical matter at hand.
Although many have come to think that Lieke Martens has become overrated in the past few seasons, I believe that they are wrong. Yes, Martens has been injured a time or twenty (most notably her toe injury that lasted for months on end during and after the 2019 World Cup), but she has scratched and clawed her way to new heights. Martens is fast, more physical than in previous years, and technical. She practically dances atop the ball when dribbling. If the Netherlands end up winning the Olympics, I bet my hat that Martens will win UEFA player of the year.
Alongside Martens, Sarina Wiegman is tasked with the difficult decision to start either Shanice van de Sanden or Lineth Beerensteyn. Both of these players are fast, physical, and experienced on an international level. Either option would be an asset to this Dutch side.
Vivianne Miedema, similarly to Martens, interchanges positions with almost everyone around her. Extensive vision, technique, and a composure allow Miedema to make an impact in every game she plays, even if she is not the one scoring.
Unfortunately for all my fellow Americans, Miedema will find space regardless of how tightly marked. If Miedema does not receive service up top, she will drop into the midfield to find the ball herself. Players such as Daniëlle van de Donk, Jill Roord, and Lieke Martens will then make runs to occupy the forward's space. While Miedema is most known for her extreme goal tally on both an international and domestic level, she is an even better playmaker. Her processing of the game is miles ahead of anyone else on the field. This, combined with her immense physicality, is what makes her, what Arsenal fans like to call, the GOAT (Greatest of All Time).
Conclusion
I wrote my first blog well over a year ago analyzing the 2019 Women's World Cup final between the Netherlands and the United States. I'll link it here if you wish to read it.
On another note, regardless of how the USWNT do, the fight for equal pay is not over. I hope that the result of this match does not dictate the perceived values of the USWNT by the people who hold their money. I also hope that the Dutch will continue to inspire a generation of young girls and boys across their country who parade around in a vast sea of orange shirts. It looks like a cool sight to behold in person!
Written by Maddie Metz
Creator of Only Women's Soccer
Sources:
Images: