Follow Only Women's Soccer

@OnlyWoSo
Introduction
Vivianne Miedema is a hot topic across two very different sectors of women's soccer fans. When the Dutch striker finds herself the subject of a tweet, comments range from "should have won the Ballon d'Or" to "Miedema's been horrible this year." 
No matter which side of the spectrum one falls, Miedema's talent in undeniable. She disappears from a match completely, only to appear seconds later with a ball in the net and a cool expression. A trick of the eye and a mental model to emulate, Miedema outperforms the game of soccer by beating her predicted xG and making efficiency a mantra. With ten goals in four matches at the Olympics, the top-scorer for both the Netherlands and Barclays Women's Super League (WSL) is far and away one of the best strikers in the world.
Part 1 – Vivianne Miedema and Arsenal's Style Under Eidevall
Unfortunately for Arsenal, the numbers do not lie in Miedema's favor this season. The Dutch striker's form has dipped, mirroring Arsenal's own streak of two wins from their last six matches. Miedema's goals and assists per 90 has decreased under Jonas Eidevall, and her eminent knack for chance creation has partly fallen away. 
Of course, the blame cannot be placed on the Dutch striker alone. With a lack of support from wide forwards and attacking midfielders, Miedema is routinely left out of the match for long stretches. Eidevall has transitioned Arsenal from a possession based, methodical style to a high-pressing transition-based attack.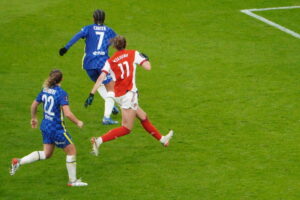 Miedema thrives off of positional freedom. Last season, Miedema frequently dropped into her midfield. Although Miedema created more individual opportunities using this method, Joe Montemurro's game plan was unsuitable. If Miedema was stifled in the center of the field, Arsenal's positioning would stagnate. Wide forwards rarely capitalized on space behind opposition defense. Arsenal's lack of movement in the attacking third would force Miedema to keep the ball herself. 
This year, Miedema, although not performing to usual standards, is as crucial as ever. She is forced to occupy a central striker role to ensure a constant option up top and an instigator for a high press. Miedema has adapted to this role well, only dropping into the midfield when a wide forward cuts central. Beth Mead in particular interchanges with Miedema with fluidity and intelligence. And although Miedema is criticized for her performance, she is doing the role she was assigned to the highest level. With the introduction of Stina Blackstenius, Eidevall is given the option to drop Miedema into the midfield.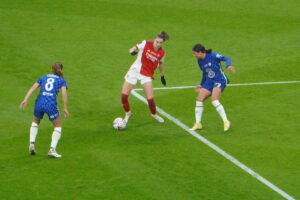 Arguably, Miedema performs best as a false-nine. As shown through Jennifer Hermoso at Barcelona and Pernille Harder through her time at Wolfsburg, a false-nine is extremely effective. A false-nine plays to the strengths of attacking-minded and creative players. Neither chance-creation nor goal-scoring ability are lost. If teammates can feed off of this play through  making runs in behind and granting the false-nine full freedom on the ball, everyone benefits. Under Montemurro, Miedema was given this freedom. Unfortunately, his possession based style slowly sunk into a lack of urgency. Eidevall, though restoring this urgency, oppresses the creativity of the Dutch superstar.
Part 2 – Is Miedema Suited For the Best Team in the World?
As established, Miedema is certainly "good enough" for Barcelona. In addition to the number of accolades the Dutch striker has amassed, her creativity, speed, and goal-scoring ability are unlike any other.For further clarification of her talents, Miedema has been linked to numerous high-profile clubs throughout the past months. PSG in particular has shown a high level of interest in the Dutch number nine. PSG have a rapid, transition-based attack not dissimilar to Arsenal. The plethora of young forwards such as Marie-Antoinette Katoto, Kadidiatou Diani, and Sandy Baltimore would make it hard to break into their starting eleven. These reasons may make the option of moving to PSG futile for Miedema going forward.
So, the question remains, is Vivianne Miedema the right player for Barcelona to sign in the 2022 summer transfer window?
Objectively, Vivianne Miedema would be a brilliant signing for the Catalan side. Along with Jennifer Hermoso, Asisat Oshoala, Bruna Vilamala, and Claudia Pina, Barcelona would have their pick of the best strikers in the world. Miedema would play a hybrid role between the half-midfield position of Hermoso and the out-and-out forward role of Oshoala. This could benefit Barcelona greatly, and the Dutch striker is being labeled as a "priority" signing for the Spanish side.
Vivianne Miedema can open a defense from the inside out, both forcing chance-creation from deeper positions and making runs behind the opposing defense. Her technique and vision in possession gives her adaptability. The free-flowing nature of the Champions League winners is already paralleled in Miedema's playing style, but structure and rigidity are what make her successful. A single chance is all the striker needs to turn a match around, even if her impact on the match has been minimal. 
Although stealth is crucial in big matches, Miedema's typical appearance of dissociation may be unwanted by a passionate and charismatic Barcelona. Matches in the Primera Iberdrola force players to prove starting positions through domination. Miedema's current style of play is not one of obvious domination. Truth be told, Miedema is not a necessary signing. With Alexia Putellas, Aitana Bonmatí, and the current form of Lieke Martens, Barcelona are never short on goals. The attacking capabilities of Barcelona's non-forward players make them lethal.  Barcelona can and will destroy any team they face, Miedema or no Miedema.
The Spanish giants value chemistry off the field similar to their on-field awareness. Internationals such as Lieke Martens, Caroline Graham Hansen (signed until 2023), and Asisat Oshoala are carefully selected as long-term additions to the core of Spanish players. Barcelona's awareness of positioning, trust, and confidence radiate comfort in the most pressureful situations. The group mentality is nothing but positive. No doubt Vivianne Miedema shares the same winning mentality, but whether or not Miedema would respond well to Barcelona's team environment is left to speculation. As Miedema told Dutch paper AD, "I have to be happy off the field to perform on the field."
Conclusion
As a massive fan of both Arsenal and Barcelona, I have mixed feelings. Vivianne Miedema would be a superb signing for the Spaniards, but I'm not convinced it's the right move. Unless Barcelona are planning to say goodbye to Jennifer Hermoso, Asisat Oshoala, or both, Miedema would not receive the playing time she deserves. Barcelona value understanding of the team over all else, possibly proving Miedema's playing style unconducive. 
As for Miedema personally, there is no greater challenge than to find your place among the best in the world. Culturally, Spain is passionate and open, a far cry from English, Dutch, and German society both on and off the field. If Miedema truly wishes to reach the level of a Ballon d'Or winner, Barcelona is the best course of action.
Written by Maddie Metz
Creator of Only Women's Soccer
Sources:
All image credit to @edwardcmetz @edward_metz