For a number of years now, there always seem to be the teams that just dominate the rest of the league in women's soccer. In the Frauen Bundesliga, there are two teams that are viewed as the cream of the crop. These teams are the notable Bayern Munich and VfL Wolfsburg. Almost always vying for a spot in the later rounds of the UEFA Champions League, and commanding other teams they play, Bayern and Wolfsburg have filled in the top two spots of the league for the past five years. Each boasting one of the best rosters in women's sports, it is no surprise that matches played between these two teams often are central in determining that year's title race. In the 2015/16 season, many of the world's most talented European players were threaded throughout the German league, pushing the Bundesliga to new heights and setting the bar for women's soccer leagues in other countries. This match, between Bayern Munich and VfL Wolfsburg from 2015/16, will take a look back on possibly one of the most sought after matches of its time. With class, second half finishes from Melanie Behringer and Begian substitute Tessa Wullaert, the top of the table clash certainly delivered. The game ended in what would have felt like a loss for Bayern, with Wolfsburg scoring in the dying moment of the game from a spectacular Caroline Graham Hansen assist which left the score at 1 – 1 when the final whistle blew.
Bayern Munich Analysis:
Bayern Munich Defense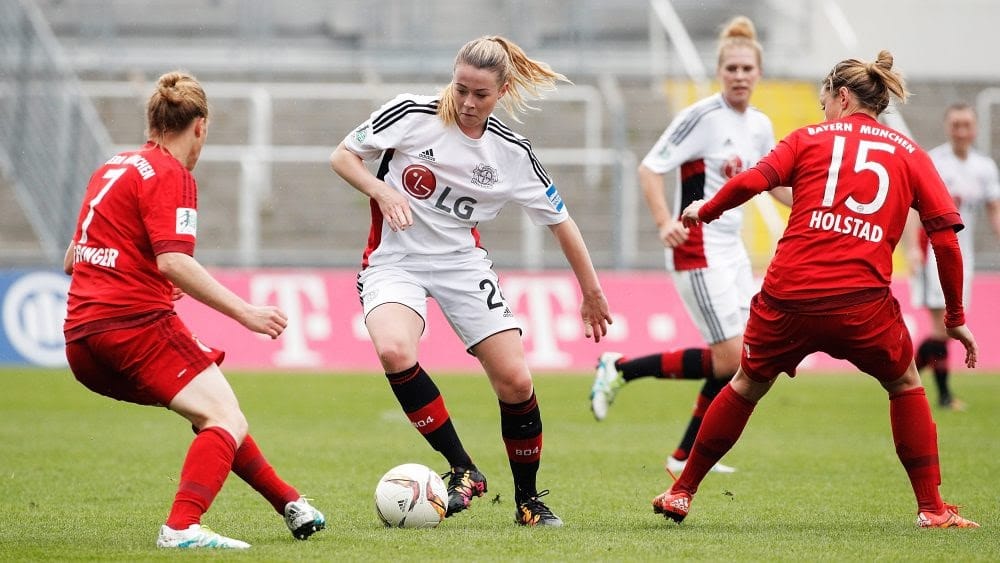 Bayern played against Wolfsburg with a 3-4-3, something bound to throw other teams for a loop. As most three backs require, the outside midfielders were very defensive minded. This allowed for the back three to stay compact and keep in control of the ball. This commonly resulted in Bayern having more of a five back when they were not in possession, but still a midfield of four when they had the ball. As much as these outside backs were ever present on defense and preventing dangerous attacks from being made down the wings, these outside midfielders did not underwhelm when it came to midfield possession. Although Wolfsburg kept most of their possession in the center of the field (and frankly won out on the midfield battle), these wingers were also crucial to the Bayern attack and played many line breaking passes that were pivotal in creating chances. Most of the possession Bayern held was within their defensive line. Even though Wolfsburg held the majority of possession on the field, Bayern was much better about leaving fewer gaps within their defense and midfield. Because Bayern had such a contrasting set up to Wolfsburg, they were able to fill into the gaps that Wolfsburg could play line breaking passes through, keeping the ball in a harmless position. This forced Wolfsburg to press tricky combinations or catch Bayern off guard on a counter attack, something that was outside of Wolfsburg's normal style of play.
Bayern Munich Attack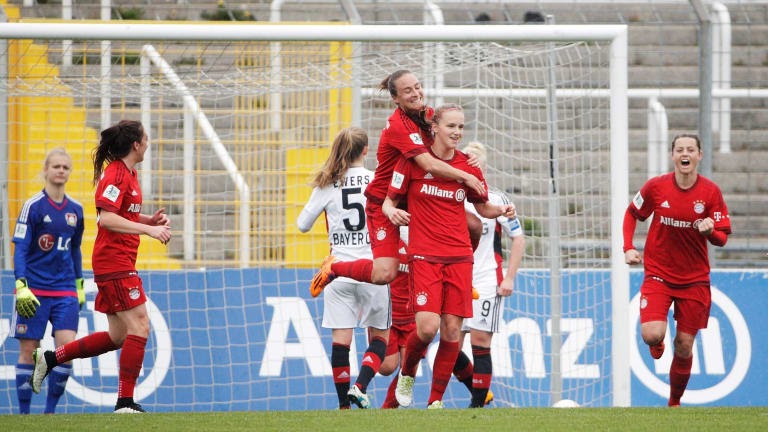 As talked about defensively, Bayern were a very compact and direct team. This means that even though Bayern may not have had the ball for the majority of the game, they were content to sit back and capitalize on the chances that they were given. Because of this, the main job of the midfield was to help the defense and cut off passes to distribute to the forward players. This was especially the case with the outside midfielders who played many line breaking passes into the middle of the field to go forward and stopped many dangerous passes made by opposition down the wings. These passes however were limited to center options for them to really work. Playing down the wings forced Evans and Däbritz into a 1 versus 1 position, or left Miedema to chase a ball with no options.
As previously mentioned, once the ball had reached Bayern Munich's forward line, options became limited. Evans and Däbritz were often forced back to help with midfield duties because of the three back system, which resulted in isolating Miedema at the top. This also meant that if either Evans or Däbritz decided to push forward with the ball, Miedema either had to drop back to cover them or was caught on crosses in a sea of defenders with no way to pass out. Because playing up the wings did not work, Miedema resorted into trying to build an attack by herself. Needless to say, Miedema is a world class striker, but at only 19 years of age, no one has the skills to dribble through an entire defense to score or set up an assist. Evans and Däbritz regularly found themselves in a similar position, with no overlapping runs from their outside backs, and no crisscrossing of movement through the midfield. Bayern were compact, but they were also unpliable in their formations. After all options were exhausted and the forwards had run themselves into the ground, Bayern reverted back to one of the most simple tactics in soccer. Namely, boot the ball up the field and hope for the best. Although it can thankfully be said that Bayern had a strategy to this, it did not get them the result they wanted out of the game. Miedema (or another winger) would chase a ball down the center of the field to try to start the attack, and if she did not lose the ball, Bayern would attempt to start from there. That is putting a lot of pressure on one player. Luckily for Bayern, Wolfsburg's defense was very open and liked to spread very wide. This meant that these balls in and over the top were tricky for Wolfsburg to deal with and resulted in some scary chances for Bayern Munich.
VfL Wolfsburg Analysis:
Wolfsburg Defense and Midfield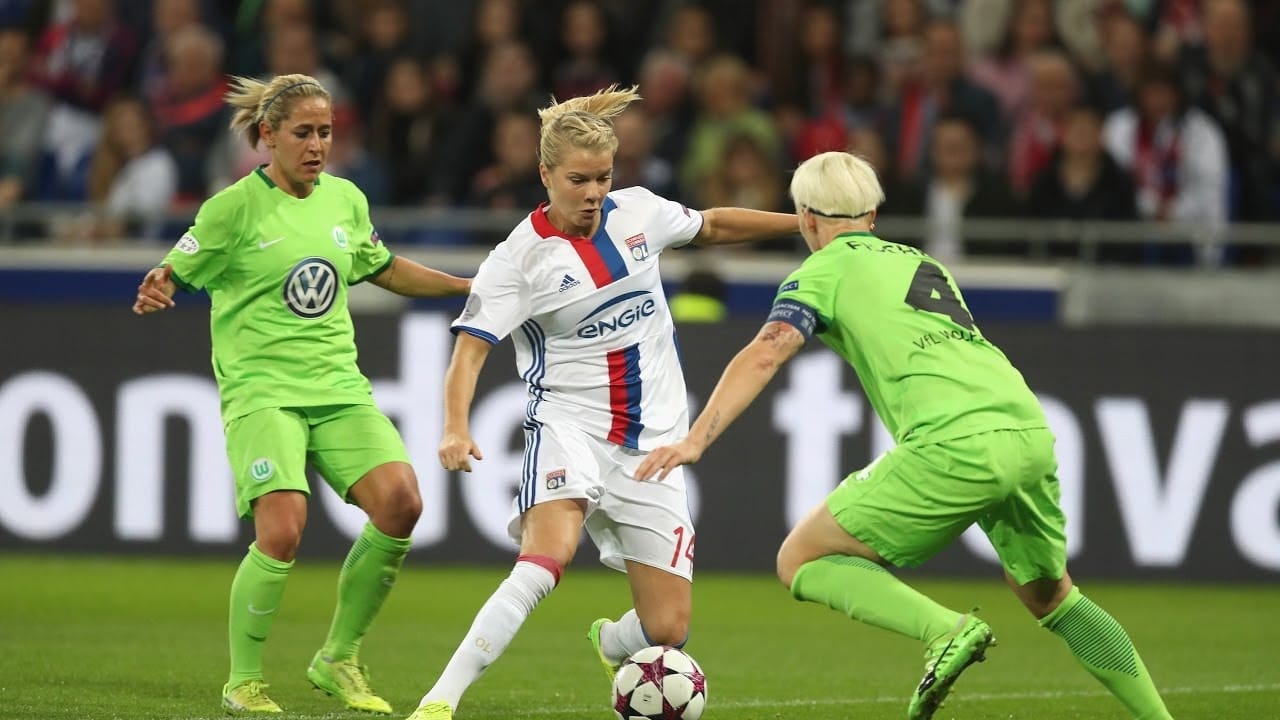 Wolfsburg played a mainstream 4-4-2, almost as far away as you can get from Bayern's unconventional 3-4-3 formation. In more ways than one, Wolfsburg continued to have contradicting tactics to the way Bayern played. Wolfsburg were very open defensively, and their outside backs tended to get very wide leaving the center of the field open to attack. This was specifically an issue against Bayern because their method of attack was very direct. A long ball over the top that could easily be turned into a split second counter attack was very hard for Wolfsburg's spread out defense to deal with. This was the main cause for the goal Bayern scored. No Wolfsburg player stepped to the player with the ball in the middle of the field because the entire team was too wide.
In the midfield, Wolfsburg made notice of showing their technique and distinct playing style. Because Wolfsburg were very possession based, lots of short passes were threaded throughout the middle of the field. These passing patterns and connections would often travel from one side of the field to another, switching sides fast and looking for a through ball to play to their forwards. On top of this, the short passing gave players the room to dribble in a free form through the middle and look for passes that way. This type of playing style allowed for Wolfsburg to stay very wide and utilize the wings on attack. It also allowed for balls to be passed through to forwards so that they could cross or have a chance at goal. However, because Wolfsburg kept so much possession throughout the midfield, they were not clinical with their chances. It took a last ditch effort from Caroline Graham Hansen and Tessa Wullaert to seal the draw. If Wolfsburg ever looked shaky on defense, they made a point of controlling the midfield.
Wolfsburg Attack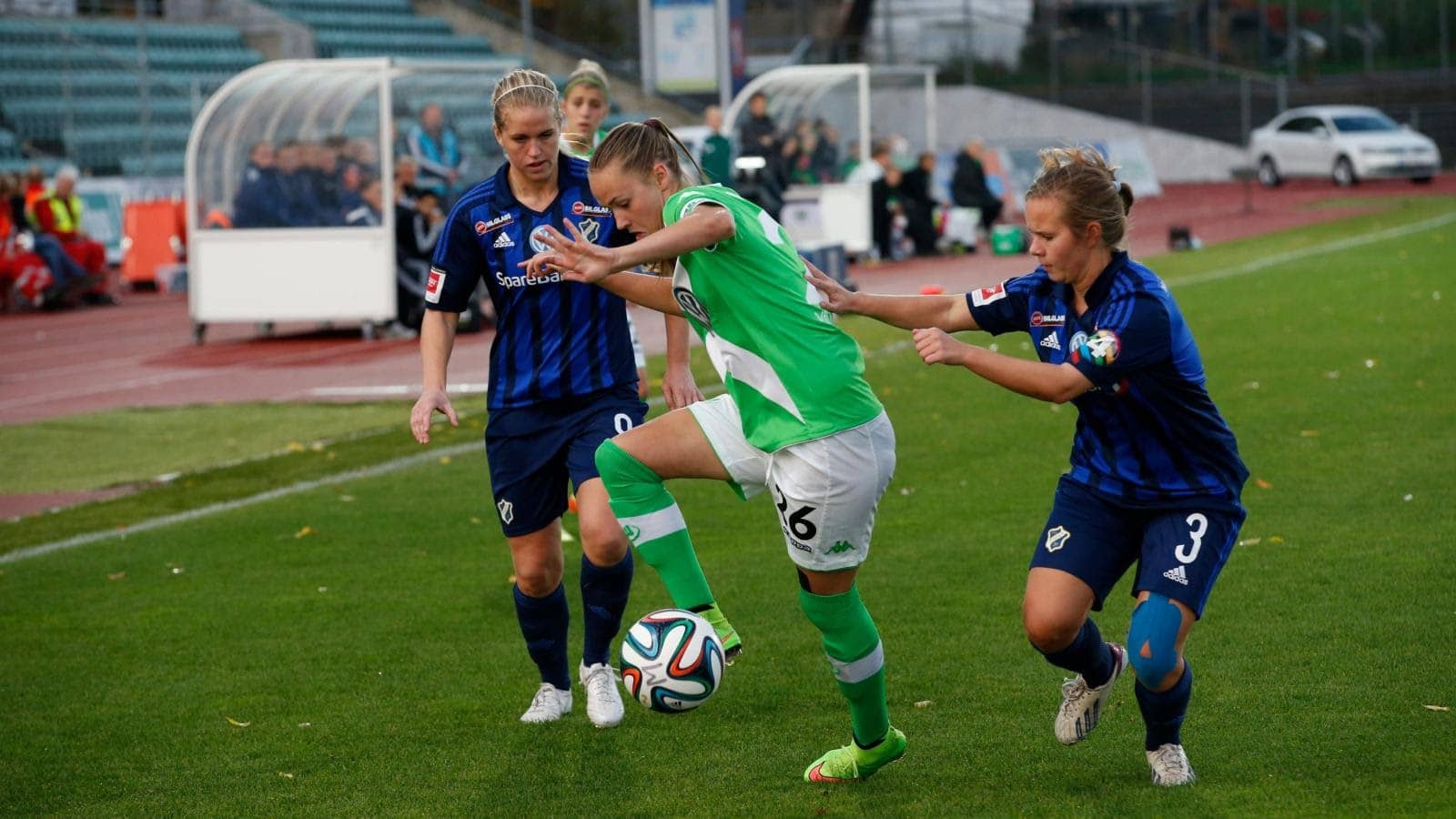 Because Wolfsburg's outside backs and midfielders were very stretched out, Wolfsburg tended to attack down the wings. Balls could reach their wingers in various ways through a focus of keeping possession, including long balls down the wings, or short through balls from the middle of the field. Much like how Wolfsburg played in the center of the field, short passes using 1 and 2 touches were crucial in how they attacked. Once a ball reached a winger, triangles were immediately created on the sides of the field using a striker and two midfielders. More often than not, this striker was Caroline Graham Hansen. Graham Hansen is a crafty playmaker on the ball, so naturally, she was the pivot for most plays in the final third. Graham Hansen unarguably has one of the most lethal skill sets on the planet. She is excellent at handling the ball, whether it be dribbling 1 versus 1, facing an entire defense, outmuscling every defender to the ball, or creating a carefully placed pass. In this particular game, Graham Hansen was in a very unrestricting possession. She moved throughout the entire attacking half picking up loose balls and creating triangles to fabricate chances. In these triangles, players would pass and keep switching the point of attack until an opportunity opened up for a player to cut forward and get a cross off at the endline. Most of Wolfsburg's chances in this game came from ground balls played from the touchline.
The other way in which Wolfsburg attacked, was using aerial crosses. There does not seem to be much of a difference between crosses in the air and those on the ground, but Wolfsburg were much less meticulous about balls played in the air and trusted that their other center forward, Alexandra Popp, would be able to get her head on one of them. Popp has one of the most prominent aerial presences of any footballer ever to play the game. She is tall, athletic, and not afraid to challenge anyone to get the ball into the back of the net. Although she did not end up scoring in this game, Popp has made numerous showstopping headers in recent years including one in front of 80,000 fans at Wembley Stadium in late 2019.
Conclusion:
In conclusion, both of these teams were, and continue to be, dominant forces in the Frauen Bundesliga. The players that are currently at, or previously have been, with either of these teams are world class and some of the most distinct players in the history of women's soccer. The clash between these two teams may not have been historic by any record, but the game is certainly worth the watch for those who want to see two German powerhouses go head to head in a whirlwind of brillant players and spectacular skill.
Formations:
Wolfsburg: 4-4-2
Schult
Dickenmann Fischer Peter Martiz
Bachmann Goeβling Bussaglia Jakabfi
Popp Graham Hansen
Bayern Munich: 3-4-3
Korpela
Abbé Holstad Schnaderbeck
Maier Behringer Leupolz Lewandowski
Evans Miedema Däbritz
Sources:
Frauen-Bundesliga – Wikipedia: https://en.wikipedia.org/wiki/Frauen-Bundesliga
2015-16 Frauen Bundesliga – Wikipedia: https://en.wikipedia.org/wiki/2015%E2%80%9316_Frauen-Bundesliga
NeySport: YouTube – Frauen Bundesliga. VfL Wolfsburg – FC Bayern München (20/02/2016): https://www.youtube.com/watch?v=jAN2HIJSqZA&feature=youtu.be
Images:
Miasanrot.com: REINVENTING BAYERN'S WOMEN'S TEAM PT. 1 – THEY HAVE DONE IT BEFORE: https://miasanrot.com/reinventing-fcb-women-pt-1-done-it-before/
FIFA.com: No Change at the Top: https://www.fifa.com/womens-football/news/no-change-at-the-top-2848645
Dagsavisen.no: Foto: Cornelius Poppe/NTB scanpix: Graham Hansen ble tysk dobbeltmaster: https://www.dagsavisen.no/sport/graham-hansen-ble-tysk-dobbeltmester-1.973120
VfL Wolfsburg: YouTube – Stimmen | UWCL | Olympique Lyon – VfL Wolfsburg: https://www.youtube.com/watch?v=WBHS4UcEWJ8