Game Analysis #7
Game Day: December 1st, 2020
Final Score: Italy 0-0 Denmark
Game Recap
Nothing can replace the passion of a game-winning strike. For a game without goals, the technical and defensive battle of Italy and Denmark brought the excitement. Rewards for both sides came in the form of a successful qualification campaign for the UEFA European Championship in 2022, even with Italy still chasing a playoff position.
The first half started out strong for both European veterans. Italy grabbed the first chance of the match through a dangerous cross that fizzled out as soon as it met its target. On the following play, Denmark rocketed the ball into the bottom corner. This goal was called off due to a visionary obstruction from a Danish player in an offside position on Italian goalkeeper Laura Guiliani. Denmark started to turn the tides in their favor around the midway point in the half. Pernille Harder, arguably the best player in the world, created numerous chances. In the 23rd minute, Harder catalyzed a series of scary moments for the Italians that finished with Barbara Bonansea launching the ball off of her own goal line to rescue a miss-timed clearance.
The start of the second half began the way the first half had ended. Denmark was on top, and intended to extend their dominance through points on the scoreboard. Guiliani was the center of action for the myriad of shots, making a spectacular save just minutes after the break. If Guiliani was beaten, her defenders gave her cover. Elisa Bartoli positioned herself to clear the ball, yet again, off of the goal line after Sofie Svava's slalom-like drive into the box. A few minutes later, Pernille Harder ensured her presence was known by a weaving run through Italian midfielders before cracking a shot that rattled the underside of the crossbar. Replays, and the emfatic shouts of Danish supporters, show the ball to have entered the goal. Unfortunately for Harder, the referee's point of view did not waver. Following this decision, Italy changed their formation. This gave a more even match. Although Denmark continued to look dangerous through possession of the ball, Italy created equally opportune chances through both set pieces and during the run of play.
Italy
A Defensive Line of Three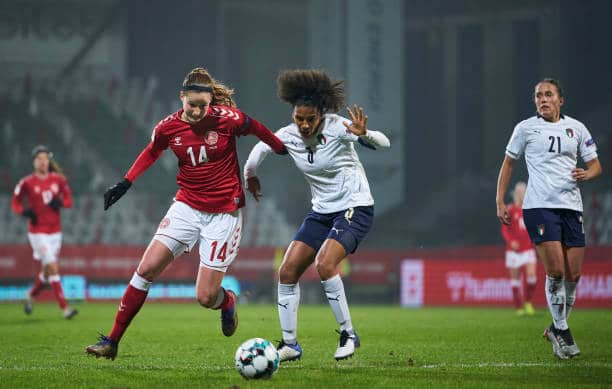 With a 3-5-2 formation, Italy failed to utilize tactical strategies and personnel. For a technical team, less defenders reduced their security without the ball as well their passing connections through the midfield. As a result, Italy neither controlled the game in their defensive third nor dictated play further up the field. In addition, Italy used offensively minded wingers, such as Barbara Bonansea, in a five-person midfield. This meant that defensive areas were left vulnerable to attack. When a wing-back was caught too far up field and a central defender decided to cover, this issue became even more apparent. Gaps started to form across the back line and throughout the midfield as players jumped out of position to cover one another. 
Once Italy added players to their defensive line, they were able to enact their game plan in attacking areas. This was achieved by bringing midfield wingers back into defensive areas and, in the second half, moving to a four-back. Wider areas were also found through distribution in the center of the field. The midfield became organized once less players occupied the space and a defensive framework was established.
Midfield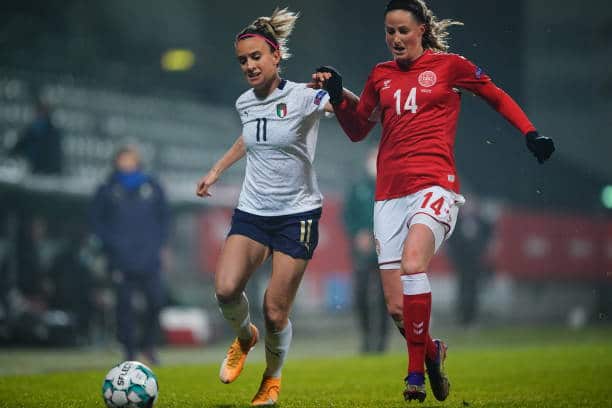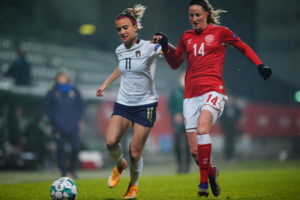 In addition to the formational concerns, Italy pressed the Danish with force. This high press created unnecessary mistakes in possession. Without a solid defensive structure, Italy was simply chasing the ball. Positioning was flexible in areas that should have been rigid as players tried to fill gaps and mark opponents left by a teammate pressing. These gaps allowed Denmark to play right down the heart of Italy's attack. In midfield areas, the high press resulted in clumps of players defending the same person. Once the ball was won there were no players in wide areas to distribute to. Passing into spaces with limited room led to a loss of possession, starting a cycle of fruitless play. While Denmark exploited outer areas using offensive fullbacks, wide-midfielders, and flexible forwards, Italy struggled. The majority of chances created by Denmark happened as a result of Italy's lack of presence in wide spaces and players marking out of position as a result.
Aside from sheer determination, there were positives to an intense style of defending. Italy was able to force Denmark to play quick and direct. This made a lot of their actions predictable and easier to defend. This is especially important when defending a player of Pernille Harder's caliber.
From an attacking standpoint, Italy had wasted potential. With some of the fastest and technically skilled forwards to date, they could have turned Denmark's strategies of using wide areas to their advantage. With Denmark using their defense to make forward runs, playing balls in behind the opposing fullbacks would have been a huge benefit. Not only are Italy physically skilled players, but they are intelligent. If Italy allowed their attacking players to make line-breaking passes and runs, they may have found an understanding in their style of play. Especially if these wider players were kept in the midfield line, Italy could use the pace of their forwards and midfielders alike to break down the Danish defense.
Possession in Advanced Areas
Once Italy was able to change formations and exploit wide areas, the playing field became level. Similar to other technical sides, Italy used short passing through the midfield as their base. They utilized passing triangles and switching the field to create space. With this space, Italy moved the ball quickly. This stylistic soccer rattled the flexible Danish midfield. 
Denmark played with a high defensive line for a large portion of the match. Although they were able to drop quickly, Italy found freedom within the space behind their backs. Using wider areas and creativity on the ball became a pivotal aspect of their game from this point forward. A slew of possession spells exemplified this. Wider players not only utilized the space behind Denmark's defense, but also forced their fullbacks to become weary of going forward. This limited Denmark's creativity in attacking areas and made them easier to defend. Proper positioning and a high press hindered the danger and patience of Denmark in the final minutes of the match. This culminated in multiple Italian opportunities on goal through set pieces and crosses from wide areas.
Denmark
A Clever Defense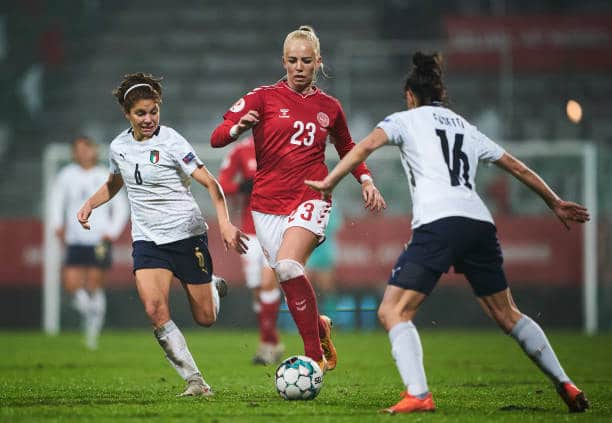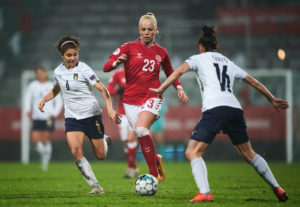 Unlike Italy, the solid formation of a 4-4-2 and a high line enabled the Danish defense to dictate the match. Denmark spread wide in possession. This allowed for space on the wings to be used by both defenders and wider midfielders. The center backs were composed and adept at picking out passes to decide the most practical way to spring an attack. For only having two completely central players, Denmark was able to provide ample cover for their defensive line. Sofie Junge Pedersen in particular was very good at becoming a central pivot. Even though Junge is a force in attacking areas, her defensive presence and passing ability allowed her to dictate play through the center of the pitch. At points, Junge was seen as cover for a central defender further up field.
Even with the fullbacks pushing up, wide-positioned midfielders were able to prevent this from leaving Denmark exposed. Emma Snerle and Sofie Svava along the left-hand side were an excellent example. Svava, aside from Harder, was perhaps the most dangerous player on the field. With only one player to mark out wide, the Italians were left in spatial confusion. Using the example of Snerle tracking back to allow Svava space to dribble, it is easy to see why Demark's wingers on both sides of the field wreaked havoc.
Flexibility in the Midfield
Italy's spatial disorganization was a key reason for the success of the Danish midfield. Italy's high press meant that Denmark's wider players had more freedom on the ball and central players had more space to work with. Exploiting wider areas was a huge benefit for the Danish attack, as shown through Emma Snerle and Sofie Svava. Centrally, Sofie Junge Pedersen and Sanne Troelsgaard were experts at commanding play. Both midfielders were experts at spraying passes into wider areas before receiving the ball back in the center of the field to advance the Danish attack. 
As with most successful midfields, Denmark was flexible positionally. Junge and Troelsgaard took turns securing the defence from a pivot position. This gave both midfielders a chance to combine and rotate with their forwards as well as freedom to express themselves on and off the ball. Through space in the midfield, Denmark's center-backs relieved pressure from their central midfielders. The mutual rotation of both positions allowed for defensive security along with providing distribution out of the back. When central defenders pushed forward, it offered the entire Danish attack security. This licenced players to press in advanced areas, causing Italy to lose possession and allowing Denmark's attacking lines to roam further up the field.
In spite of limited central midfielders, Denmark was  not at a disadvantage against their European counterparts. Because of their unrelenting press, Italy found themselves clumped together. This produced gaps in defensive lines and room for the Danish to maneuver the ball. It was for a combination of these two factors that allowed Denmark to both use wide spaces and distribute to them with relative ease.
Attack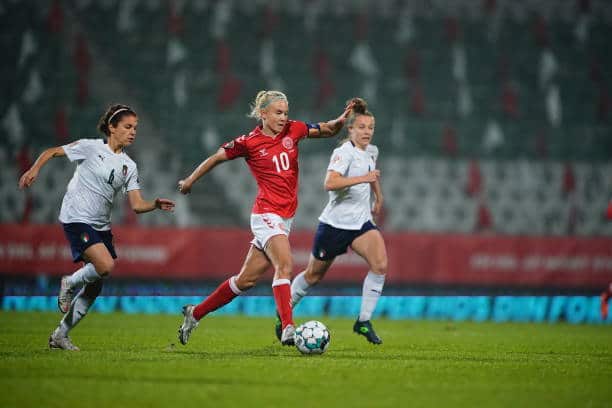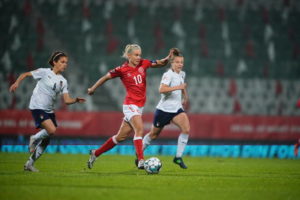 A common theme throughout the Danish attack is flexibility. When a team has one of the best players in the world, flexibility is not a scarce commodity. For Pernille Harder, becoming a centralized playmaker is crucial to her integration throughout the game. Forcing a player of her caliber into a specific role nullifies their lethal abilities and weakens the cohesion of the team. This is the reason that playing Harder in a forward duo with Rikke Madsen worked. As Harder would rotate back into the midfield, Madsen would provide a central option up top. If Harder drove the ball herself, Madsen could either drop back into the midfield, or create a second option up top for Harder to combine with. The spaces created by the interchanging of positions also allowed both outside midfielders and wing-backs to rotate central. In turn, there would always be a central forward or central run as an option for Harder to assist if she decided to become the playmaker.
Conclusion
In short, Italy and Denmark are nations with immense talent when it comes to the future of women's soccer. Both countries have been shortchanged in the past few years on both recognition and funding from their governing bodies. As the UEFA European Championship draws ever closer, both teams will come prepared to take the tournament by storm.
Formations
Italy: 3-5-2
Guiliani
Fusetti       Gama        Bartoli
Bergamaschi       Caruso        Galli        Cernoia       Bonansea
Guigliano        Giacinti
Denmark: 4-4-2
Christensen
Andersen       Ballisager       Sevecke        Svava
Sørensen        Troelsgaard       Junge       Snerle
Madsen        Harder
Written by Maddie Metz
Creator of Only Women's Soccer
Sources:
Images: