October 31st, 2021
Final Score: Washington Spirit 1-0 Houston Dash
During the latter half of the 2021 season, the Washington Spirit went weeks without a regular game schedule due to COVID-19 protocol, all while playing through a managerial collapse and processing the lasting effects of antagonistic behavior within their club and league-wide.
Surprisingly to some, the Spirit continues to thrive in spite of this background noise. 
Tactically, the Spirit's midfield is fluid, attack is clinical, and the defense is conceding less goals. During difficult times, the Spirit gave us a master class for how to succeed under immense outside pressure.
Two of the key reasons why the Spirit will enter the playoffs on a win streak were on display during the regular season finale at Audi Field.
Lineups
Spirit Lineup: 4-3-3
Bledsoe
O'Hara        Sonnett        Staab        McGrady
Sullivan        Bailey        Sanchez
Rodman        Hatch        McKeown
Houston Lineup: 4-3-3
Campbell
Hanson        Dahlkemper        Naughton        Chapman
Schmidt        Mewis        Groom
Prince        Daly        Spencer
Game Recap
The first half was fought to a stalemate with each side limiting significant opportunities for their opposition. Jane Campbell was forced into action various times throughout the half, driving to stop Ashley Hatch's header and Tegan McGrady's fizzed cross.
The Dash targeted corner kicks as their strong point, using the precise delivery of Kristie Mewis. The attempts of Haley Hanson and Sophie Schmidt proved futile against Spirit keeper Aubrey Bledsoe.
The second half proved more action-packed. The Spirit created constant work for Campbell in goal with numerous chances created by Trinity Rodman and Ashley Hatch. In minute 76, Rodman broke the deadlock on a half-volley off of an excellent assist from Sam Staab. A final opportunity for the Spirit arose from a free kick by Sanchez just before the end of regular time.
Houston's season ended with minimal strife.
Andi Sullivan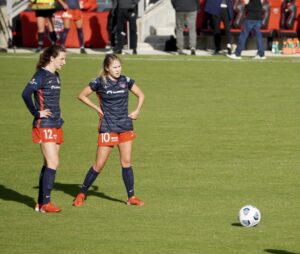 The Spirit's engine lies in their midfield. Andi Sullivan has truly come into her own in 2021, making soccer fans across the United States question her exclusion from the USWNT's Olympic roster. Sullivan's technical skill, leadership, and anticipation of opposition movement are what allow the Spirit to be successful against stronger opposition.
Under Richie Burke, Sullivan played a disciplined defensive role. Her lack of movement up the field was due to the Spirit making overlapping runs using their outside backs. Sullivan sat between her two center backs for large portions of the match, covering for an outside back when the opposing side decided to counter. Washington compensated by dropping Julia Roddar into a holding midfield role. This severely limited the Spirit's ability to have central options out of the back.
In recent months, Dorian Bailey and Tori Huster were partnered with Sullivan to create a flexible midfield trio. Through a Barcelona-esc style of play, Sullivan, Huster, and Bailey bent the rules of midfield positioning. Each Spirit player would cover for the other, allowing Sullivan to use her vision and passing range further up the field. This gave the Spirit an easy option to play central in addition to out wide. Long story short, Sullivan has been called up for every national team camp since the Olympics.
Defense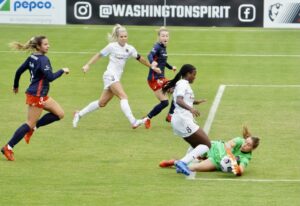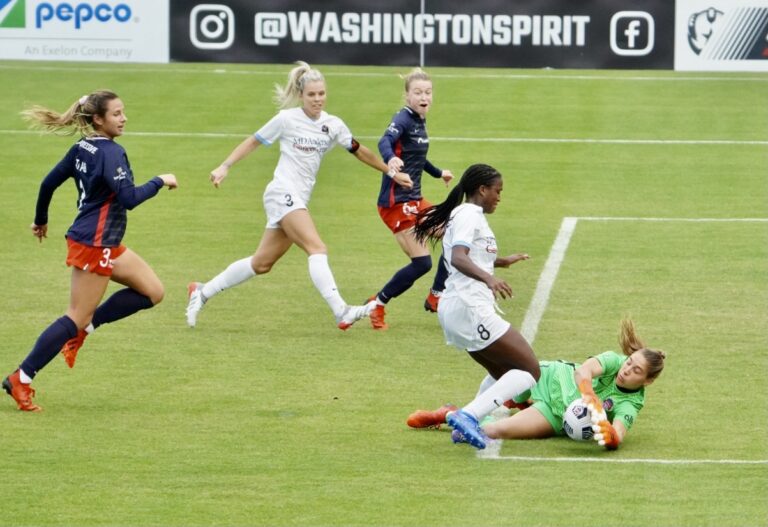 The Washington Spirit have conceded one goal in their past five matches under Kris Ward – a notable decrease from their previous round of matches before Burke was fired.
Although the application of Andi Sullivan in more attacking areas is not directly related to the Spirit's improved defensive success, it certainly provides important context. Without the reliance on attacking fullbacks, defensive positioning is much more stable. Against Houston, both Tegan McGrady and Kelley O'Hara had opportunities to push forward. This overload of one side allows for crosses to be made with more bodies to aim at. Additionally, overlapping runs allow for more fluidity in attack. 
These attacking benefits along with a more stable defensive structure allow for Sullivan to cover for her back line less often, releasing her to go forward. This defensive structure also allows players such as Trinity Rodman and Tara McKeown the assurance to play on the front foot, pressing and winning balls in their attacking third. Rodman and McKeown have limited defensive responsibilities, allowing them to run themselves raw on getting the Spirit points on the board.
Conclusion
In lue of the Spirit's third place finish for the regular season, Only Women's Soccer is giving a huge shoutout to goal keeper Aubrey Bledsoe.  Without Bledsoe's physical dominance and vocal presence, the Spirit would not have finished as high on the table. Bledsoe is a timeless fan favorite. The only question is: When will the USWNT catch on?
Written by Maddie Metz
Creator of Only Women's Soccer
All image credit to @edwardcmetz @edward_metz